…………………and me now too!!!!!!!!!!!!!!!!!
Horray … I am a german "Kraut" (1) now. Horray!!!!!!
Sono "Crucco" (2) finalmente!
For my memoirs: On December 3rd 2005 I received the German citizenship.

For me this is a big and nice thing. Since my birth I am living as Italian (son of emigrants) in Germany. I still remember how I was called a "Spaghetti" (3) in primary school and felt ashamed to be different,… not to be German …
(1),(2),(3) for explanation I found this very useful list of Offensive terms sorted by nationality
Of course soon things changed when we got history lessons in middle school, and then I no longer wanted to be German. But growing up and paying so many taxes here the wish to get acceptance by having the german nationality still lurked. I didn't apply for it, because I would have had to abandon my Italian citizenship.
Beginning of this year, the ultra-conservative bavarian government approved a law which allows the double citizenship under certain conditions. (In other parts of Germany the law was valid already for quite a while.) After hearing this I immediately applied for naturalization. Yesterday I received a letter with congratulation: I was accepted.



My nationality now: Italo-German-European.
Unfortunately too late for the German elections which took place 18th of September 2005.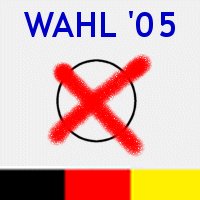 I am sure with my vote the unlucky "Grand coalition" of the two major german parties, could have been prevented. I could have made the difference, … so I just say: "Germany take the consequences now".
Related Posts: