Unfortunately on my first day, the weather was not nice. It was rainy, so I decided to do some shopping. Heading towards Fashion Show Mall, I noticed the new Trump Tower, which was not there on my last visit in 2006. Las Vegas constantly changes its face. The Trump Tower is located north of  TI and opposite to Wynn, behind the spot where the Frontier was located.  Frontier has gone too. I remember a nice shot I had made in 2006 of the Frontier sign.  Now everything of the Frontier is gone. They left the sign only and I was told they are planing to rebuild a New Frontier.
Photo shows the Fashion Show Mall, where I like to shop . My favourite stores in the Fashion Show Mall are Levis and Sketchers.  I also check out always the Ticket4less shop, and of course I always pick a take-away coffe at Starbucks. It had rained the whole day on this first day and I hadnt had any chance to photograph. Seeing that weather had improed at the evening I decided to make some nightly shots, so that the first day would still bring some shots to my collection.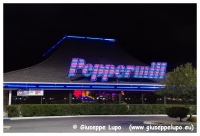 I liked the neon colors of this Diner between North Strip and Downtown. I made photos of The Riviera from the Strip side and also from the Sahara Casino (photographed from the Self Park Garage deck). Going North towards Stratosphere and Downtown, more and more chapels can be seen on the strip.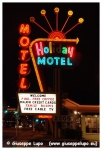 Near Fremont Street I made this shot of a nice old Motel with broken  i+d neon letters. I returned late to my Hotel the  The Flamingo where I stayed the first three nights.
Related Posts: