Flight from Munich to San Francisco and connecting flight to Las Vegas. A endless day starting at 4 pm from Munich and arriving at 3 am (next day) Las Vegas time in my bed at Flamingo Las Vegas. I knew already all movies on the flight mediathek and rewatched Jack Reacher with Tom Cruise, which I liked very much despite bad Reviews. Next to me in the 11 hour transatlantic flight a Romanian Lady living in  San Diego. She drank 8 (eight) glasses of Lufthansa-Merlot during the flight. This is a frequency of approx. 1 glas every 1 and 1/2 hour. I was impressed and scared.
We started with 1 h delay in Munich and same in San Francisco. In both cases the airplane arrived too late from previous flight.  A day to Forget quickly.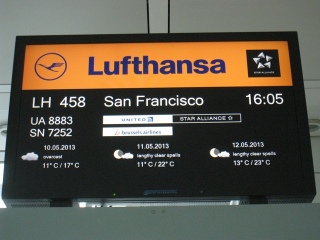 The only Highlight was the pickup of my rental car at Mac Carran. I got my highly desired Jeep Grand Jerokee Laredo 4×4. Brandnew! Only 2600 miles driven. Latest Model with Bluetooth Audio and fullsize Infotainment package. It was the last available Jeep GC. I could not imagine that this joy would last only 48h and 530 miles. (see Day 2 report)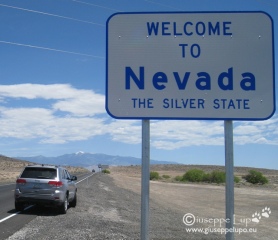 My Jeep Grand Cherokee at the California to Nevada border.
Related Posts: