I had late breakfast in Bluff, UT and then continued my drive to my next stop in Page, AZ.I had finished my scheduled hikes and wanted to relax 2 days in Page, AZ and a last day in Las Vegas, NV before flying back to Munich and continuing office work routine. After passing Mexican Hat the Monument Valley Buttes came into sight. No need to say that a short photo stop was obligatory. 'I had visited Monument Valley before and just drove by.
Monument Valley
Shortly after Monument Valley after 10 days in southern Utah I entered Arizona, The Grand Canyon state.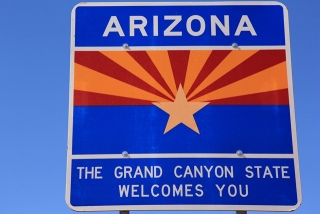 Entering Arizona
I had a final Hike in my backup list: The Eggshell Arch. This one is located in Navajo land and I was not sure If I just could enter there. I had read different opinions on the net. But the fact that fotos existed of that Arch encouraged me to just do it. It was a 7 mile side road on US95 towards Page leading into Navajo land. After a few miles the road turned into a dirt road and I parked my Jeep where the road became too rocky and sandy to continue by car. Two Navajo people where working on their field and one of them approached me when I stopped there. I was nervous but told that I would want to do a small hike of 2 hours and photograph an Arch. He said OK and I started towards Eggshell Arch. Once again I was too late for good photos on this sunrise location. I arrived at the arch at 11.30 am. Did my photos and hiked back. The GPS showed a hiking distance of 9.6 km ( 6 miles). The Navajos had been gone meanwhile, probably for lunch.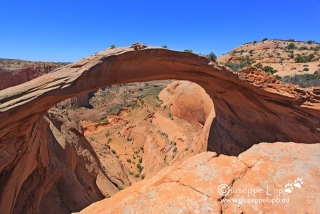 Eggshell Arch
I drove another hour and checked in at 2 pm at my Hotel in Page. I had some food and then went to the Pool. Now it was time for relax.
Hiking Mileage today:   9,6 km /  6 miles
Hiking Mileage total:    156  km / 97.5 miles
Related Posts: