When I woke up this morning, I regreted to not having booked two nights here in NewYork New York Hotel. I liked this Hotel and the room very much and I had the best sleep of the whole trip. But I had decided to pass the last night in another Hotel: The Tropicana, just over the street.
So I had to checkout and with the luggage in the trunk I drove to have a Goodbye Breafast Buffet in my favourite Breakfast place: the Bellagio Hotel. For 15 USD including tax, I got best juice and coffee and toasted Bagels with salmon, pancake with Syrup and large selection of fruit and a lot of other premium stuff. (It was my last day here). After breakfast I needed a walk and went to the strip and walked around to say Good Bye to the strip. Then I decided to visit another Comic shop on Rainbow Boulevard, but it showed to be not good and I didn't buy anything. I continued driving around stopping in a Starbucks drive-through for a Mocha Cappucino (venti) to go, and continued to drive through the roads stopping at a Tower Records where I also didn't find anything I liked. My plan was to see the Red Rock canyon this last day, so at about 10:00 am I drove to this place which is only 17 miles east of the strip.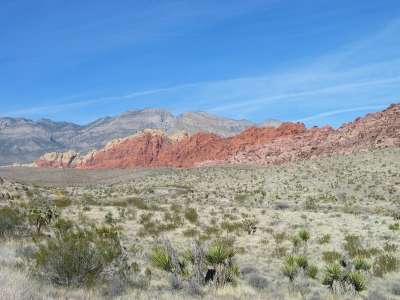 Scenic drive in Red Rock Canyon.
In the red rock canyon I stopped at the several viewpoints taking the scenic drive and I made a longer stop at Pine Creek Canyon. Here I made a 2 1/2 hour hike towards the canyon and the creek and back. It had become very hot this last day here in Vegas: about 71 degree F (felt like 25 degree Cel.) The sun was shining and the sky was blue: I didn't want to return to cold Munich the next day. I left Red Rock canyon at about 3:00 pm and continuing driving around casuall through the streets in Las Vegas, stopping whereever I saw something interesting.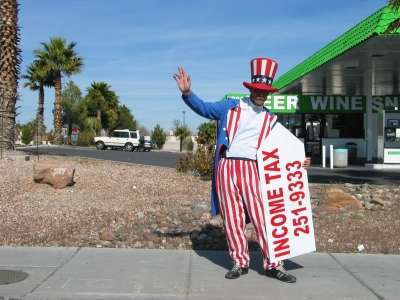 I decided then to check my Emails in the Flamingo Business center, which I had used already the first time. Then time has come for check-in at the Tropicana Hotel, and when entering there I regreted again for not having stayed at New York New York Hotel. This Tropicana was so old and greasy: I didn't like it from when I entered.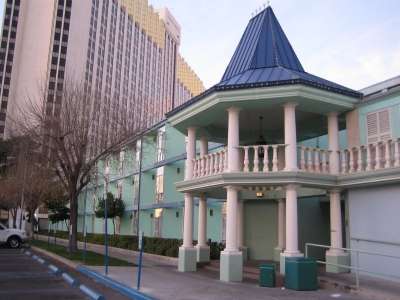 My Hotel room wing in the Tropicana: Excellet view to car park.
I also got only a third floor room with view to the car park. And I paid even more than I had paid in the New York New York. O.k. left the luggage and immediately went out onto north strip for a diner at Bellaggio, and afterwards again a walk along the strip passing Bellagio lake with the nighly fountain show, going up to Treasure island were the Pirate show just ended, crossing strip and entering The Wynn Hotel, that new 5 star Hotel admiring that big waterfall and the lobby. Then I walked down on the strip over Paris, Venetian to Aladin for a last walk through the desert passage. Then back to my car in the Bellagio. It has become late and I took a last drive to fill up the car, so that I didn't have to do this the next morning before leaving the car at the rental station. Then I went back to Tropicana, got all my stuff out of the car for packing the luggage for my flight home to Munich on the next morning.
See the complete Photo series of this trip on my Homepage
Related Posts: