This Thursday afternoon I will drive back the 300 miles (480 km) to Las Vegas. The morning I had planed to make a tour in Long Beach driving along the Ocean from Naples to San Pedro. After check-out from the Hotel and a quick coffee to go, I took I-110 and then I-405 south bringing me directly to the pacific coast. Here I had a breakfast in a typical american breakfast diner: I ordered a custom breakfast of Hot Bagel with ham, egg and bacon with coffee and orange-juice. Then I drove along the coast to Long Beach.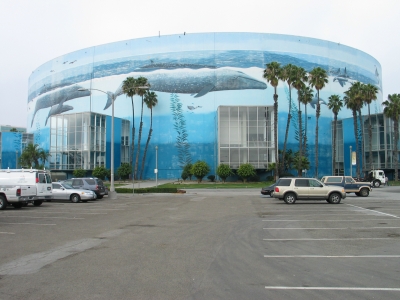 Wylands "Planet Ocean" on the Long Beach arena.
Entering Long Beach I was saluted by Wylands painting on the arena and made a drive through Pine street and then a stop at Queen Mary Pier.


Queen Mary Hotel in Long Beach.
Then I crossed the Vincent-Thomas Bridge with view onto industrial worldport L.A. and landed in San Pedro, where I stopped at the Korean Bell with nice views over the worldport, the V.T. Bridge and the pacific coastline. After a short stop in San Pedros Green Hills Memorial to visit Buks gravesite it had become 12.30 pm and I noticed it was time to drive back to Las Vegas. I took the I-110 north passing a last time in front of Downtown L.A., turning into I-10 east and then drove for at least 50 minutes throufh outer L.A. until finally merging into the I-15 north which should bring me directly to Las Vegas. Luckily traffic situation was great and from Long Beach through L.A. I could drive with excellent speed. Weather was very cloudy this morning, so that I didn't stop often for taking photos. On I-15 between Barstow and Baker the visibility was very poor due to wind and sandstorms in the desert. The more I approached Las Vegas, the more the sky became blue again and weather improved.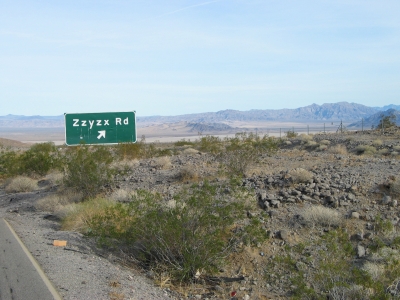 Approaching Las Vegas on I-15 north, the Zzyzx Road exit.
This evening I had a reservation for the New York, New York Hotel and Casino, and it should proof to be the nicest Hotel of my trip. I arrived at about 4.30 pm in Las Vegas and checked in to New York, New York, where I got a nice room with mountain view on 23rd floor.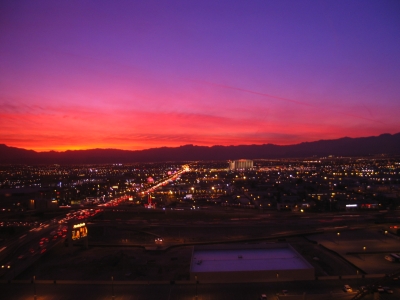 Sunset seen from my Hotel room in New York New York Hotel (view of Tropicana Avenue)
My plans for the evening were shopping, eating something and having a walk on the Strip around NewYork Hotel. But first of all I made a ride on the Ny, Ny rollercoaster. Then I took a drive on the strip to the Fashion Show Mall on North Strip (north of Treasure Island), were I found a Levis Store and could buy me my 501 Jeans for 40 USD. After driving back to the Hotel, I walked to have a look inside the Monte Carlo and MGM Hotels and finally landed again in the very nice Ny Ny Hotel for a beer and a drink in the different Bars. I liked the Tequila Sunrise I had here. I was tired after the long drive. Today I had made another 380 miles (608 km) in total. So I went to bed early. For tomorrow, my last full day in Vegas I planed to have a relaxing stress-free day and some last good eats.
See the complete Photo series of this trip on my Homepage
Related Posts: