Wednesday morning I woke up late and relaxed. Took a free Comfort Inn coffee to go, and my first visit was the Silver lake 5 minutes north of the Hotel. Nice view over the Lake to the Hollywood sign. Enviable the people who live here, nice apartments, with lot of green, not too prententious but with nice views in the hilly streets. Blooming bird-of-paradise flowers in the front gardens make me remember the climatic affinity to siciliy, where my mother lives and we also have a bird-of-paradise flower which must be blooming right now, whereas in Munich we have 20 cm of snow and – 10 degree celcius.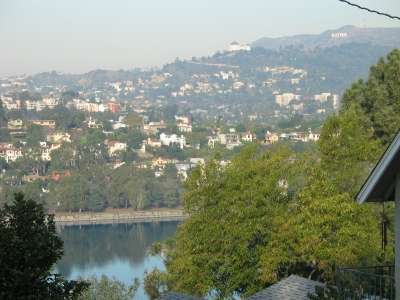 View from Silver Lake district to Hollywood sign and lake.
I had no concrete plans for the day, just some ideas like Beverly Hills, Rodeo Drive and Downtown L.A.( which I wanted to visit more in detail because I have always avoided it, in my previous three L.A. visits to go downtown L.A.). I returned from Silver Lake with a small stop at Echo Park.


Echo Park: I liked this view so much that I have been here at least three times (near my hotel).
Due to the sunny weather I decided to start with Grifith Park, Hollywood and Beverly Hills. Downtown L.A. could wait till the evening. Driving along Sunset Boulevard (from my hotel) to Hollywood I could soon see the Observatory and the Hollywood sign. Fascinating the palms everywhere along Sunset Boulevard. I took a drive up to Grifith Park and enjoyed the marvelous view to the Hollywood sign from the Observatory, where construction is still ongoing.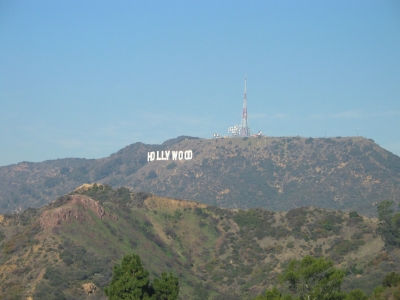 The sign.
Comign down from Griffith park I drove around the residential area below the park. The houses and front gardens here looked similar to the ones in Desperate Housewifes and I saw mexican gardeners with their pickup trucks everywhwere. Either they were pushing a a lawn-mower or they were watering flowers.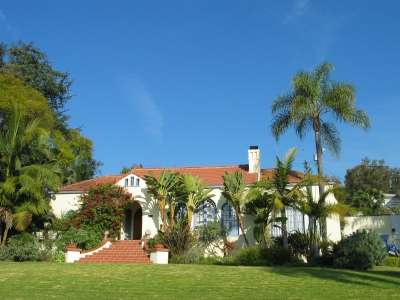 I wouldn't mind living here: Below Griffith Park, North Hollywood.
From Here I continued through Hollywood Boulevard and St. Monica Boulevard towards Beverly Hills for a stroll through Rodeo Drive (can't deny that I had some slight hope to see some famous Hollywood star during morning shopping, but didn't turn true).


Didn't find my favourite boutique on Rodeo Drive, …
Next I went back via Sunset Strip and St. Monica Blvd and turned South onto Fairfax Avenue, crossing a jewish quarter and a korean. Lot of colors and people around, lot of green front gardens, nice area too. I drove south some miles and then returned back north up to Farmer's Market. Comparable to Munichs Viktualienmarkt a vivid open air market where I tried Pastrami sandwich and discovered Light my fire: a small hot sauce shop with hundreds of different hot chili sauces of every taste and flavor. I bought 4 sauces for 35 USD, for example a raspberry-jalapeno sauce for Christiane, and a "Mango Meltdown" and a "Fucking Hot sauce" for me. Not far from here is Melrose avenue were I went next, a pitoresque colorful fashion boutique mile. I checked out some Jeans store, but they didn't have any Jeans below 180 USD so I decided to wait for another opportunity to buy me a 40-USD-Levis my obligatory USA-vacation-souvenir.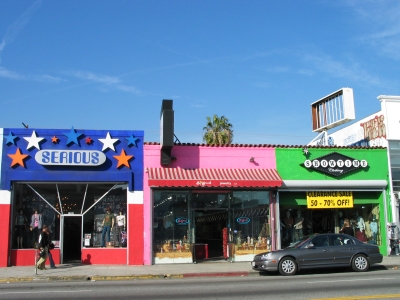 Colorful boutiques in Melrose Avenue
After this I was ready for Downtown L.A. Being hungry I started in China Town where I hoped to find some Dim-Sum diner: I was told that Dim-Sum is served only in the morning and for Lunch (don't know if its true). I left disappointed and hungry for El Pueblo the old L.A. initial colony. Meanwhile it has get dark. I continued my tour on foot to see Angels flight, the Bradbury Building, the Grand central market and finally the L.A. Central Library building. Was quite dark and little bit of Batman movie atmosphere in those dark streets with those high buildings.

Strolling through Downtown L.A.
I was still hungry and decided to end the evening with another drive back to Hollywood where I parked my car on Hollywood Boulevard near Graumans Chinese Theater (12 USD parking flat rate), were I had a walk through the handprints at Graumans, the Kodiak Theather complex and the walk of fame with the stars, before dining at a Hamburger Restaurant opposite of Graumans.
On my way home to Comfort In Hotel I took a last nightly view to the Downtown Skyline from Echo Park: Good Bye L.A. tomorrow I am driving to Long Beach and then back to Las Vegas. (my mileage today: 70 miles driven)
See the complete Photo series of this trip on my Homepage
Related Posts: