This Sunday morning I woke up with an incredible headache. I forgot to tell: The day before in the supermarket I also bought two bottles of a Wodka mix drink. My smart strategy was to use that alcohol in the evening to better fall asleep and quicker overcome the Jet Lag by a wonderful long sleep. Didn't work out! With pain in my head I poured the second bottle into the sink, and swore to drink no alcohol anymore (for some time). Needing immediate aspirin cure I had to eat something and went down to the Las Vegas Hilton breakfast buffet.
2 aspirins later, still headached I packed my luggage and checked-out: The next two nights I was booked for Flamingo Hotel on center strip. Day's Plan for sunday was the first bigger tour with the car: North on I-15 to Valley of Fire State Park, and following the Northshore Road going south on Lake Mead to Hoover Dam. In total I drove about 160 miles on this day (256 km), a good start but nothing compared to what will come the following days. I enjoyed the Road tripping, stopped at a fuel station and checked out some beef jerky as a driving snack. In Valley of fire I liked most the petroglyphs of Atlatl rock, the Arch rock and the Elephant rock.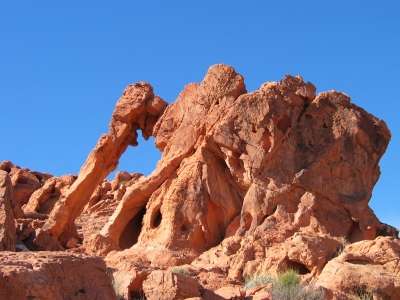 Elephant rock in Valley f Fire S.P.
It was a long drive from VoF S.P. towards Hover dam along the Lake Mead. Returning after sunset in Las Vegas, and after a quick check-in at Flamingo Hotel: I made some night fotos of certain spots I always wanted to photograph: This is one thing I never could do when I was with Christiane on tour. She would have killed me for every photo stop longer then 2 seconds. Mostly I am proud of the Sahara, Hard Rock, Frontier and Welcome Las Vegas sign photos. Late the evening I went Downtown Las Vegas to see the Fremont street expereince. After that I was ready for my bed in the Flamingo Hotel: nice view from my room on 21th floor towards the strip and Caesar's Palace. Hopefully this night gets longer.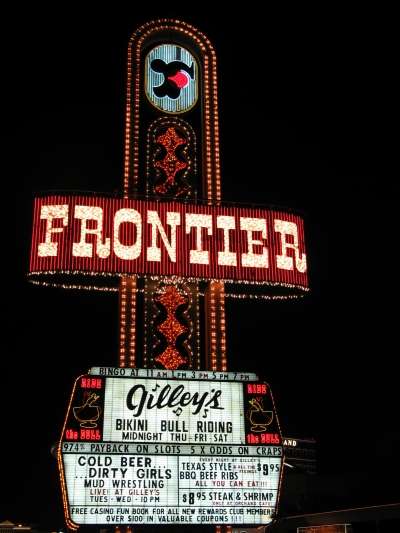 The Frontier Hotel sign on north strip.
See the complete Photo series of this trip on my Homepage
Related Posts: