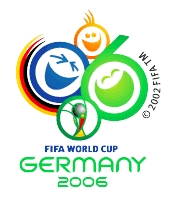 Unbelievable but true. Today I got an Email from the FIFA worldcup organisation that I had won in the ticket optionee programm, where I had participated last year in November. In the meantime I had lost in both ticket lotteries and had no hope left, to see a game live in the stadium. The first time after 32 years having the soccer world cup again in Germany this was very unlucky. So much the better getting this notification right now: The good thing: Its a soccer game here in munich in the new Allianz Arena in the best price category of 100 Euro. The bad news: Its only Tunisia against Saudi Arabia. But its better than Cote d'Ivoire against Serbia Montenegro (I hope).
If somebody desperately would like to see this game:
14th June 2006
location: Munich 18.00
game #16 Tunisia – Saudi Arabia
Price Category 1 (100,- Euro)
and has tickets for some other games like Italy, Germany, Brasil, Argentinia, Spain, … (I would say everything beside Tunisia and S.A.)
I am willing to exchange.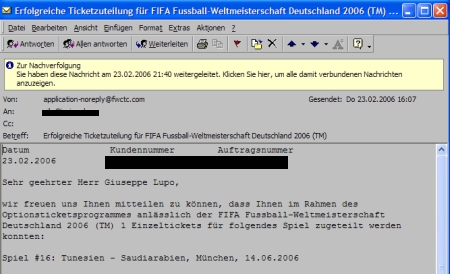 Email notification from FIFA
Related Posts: