11 miles hiking – 220 miles driving
After such an exhausting start of this 2015 tour, I had planned for today a recovery day. Only small hikes and mostly road tripping. My main Goal, I had already accomplished, finally hiking to Angel Arch. Being here in the Moab area it was obvious that a visit to Arches and Island in the sky district would give plenty of possibilities to have a relaxing day, and still see a lot of places.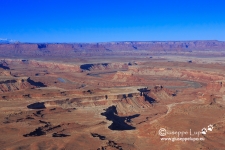 The day began early. I wanted to re-experience the Mesa arch at sunrise. I drove early from Moab up to Island in the Sky district of Canyonlands N.P. and started the day with this small  1.4miles (2km) roundtrip walk to the Mesa Arch. It was still dark and I used the head lamp. February, so not many People should be here this morning. Indeed I was the first at the Arch and could position my tripod on the Location I wanted. Shortly after the sun appeared at the horizont, the underside of the Arch began to glow in red, the famous postcard shot. I did several shots and not many People came. I believe to remember less then ten. I had such a satisfaction that it was again freezing cold and a cold wind blew: Because this time  I was wearing my brand new Patagonia jacket, the new  gloves, and the new cap. Especially the gloves helped during photographing. Somehow funny I had come here to US mountains in february without that Basic Equipment.
My next Intention was to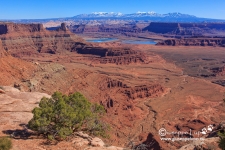 drive along the rim and enjoy the views from Green River Overlook and Grandview Point. Those do not even require to hike, the viewpoint is at the parking lot. Before leaving to Dead horse Statepark I stopped for anather small hike to Murphy Point  (3.5 miles – 5.6km roundtrip). The trailhead to Murphy Point is located halfway towards Grandview Point dead end. The hike is easy and short. Going to Murphy Point, I would at least add, one new Photo Location to my portfolio. On my way back to Moab I entered Dead horse State Park for a quick stop at the viewpoint. Especially the clear view towards the snow covered La Salle mountains was impressive.
Meanwhile it was 11 am, and next on my plan was a drive down to Moab and a visit to Arches N.P.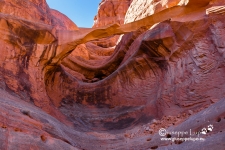 I had read of the collapse of parts of Ring Arch. Ring Arch is not mentioned on the Arches N.P. offical map, but I liked it when I saw the photo on the Report of the collapse. It is located at the Arches N.P. entrance and the hike is a 3 miles roundtrip (4.8km) un-marked, un-maintained trail.  Thus i decided to see Ring Arch. The rest of the Arches N.P. I had seen anyway.
Finally I wanted to end this day with revisiting Delicate Arch at Sunset. I think that would make a good Combo for saying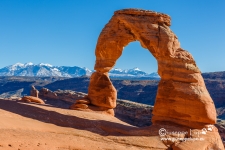 Goodbye here: Sunrise at Mesa and Sunset at Delicate Arch. Furthermore I recalled  this small little 3 miles (4.8km) round trip hike up to Delicate Arch very nice in my Memory. I had really enjoyed the climb up on the slickrock, the last time I did it in 2012. I stayed 2 hours up at Delicate Arch having some Snacks and drink and waiting for sunset.
When I returned at the car it was getting dark. My next stop would be Susie's Branding Iron, where I had been the evening before and I ordered my second Steak on this US trip. After dinner I drove from Moab to Caineville to the Rodeway Inn Motel (a 120miles 2h drive). My next days target would be the Escalante area. I wanted to arrive there not too late in the morning.
New Portfolio collections:
Updated existing Portfolio collections:
Related Posts: