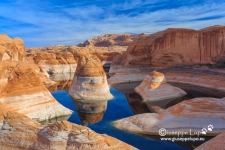 I had hiked to Reflection Canyon 2014. I was very lucky back then, because I had accidently done the hike on the day with lowest Lake Powell water Level in 2014. A low water Level dramatically emphasizes this photo Location. Peter and me hiked comfortably starting at 8 am. We had enough time because we would stay the night. Peter had camped out there before. Me on the other side had done this hike as "same day in-and-out".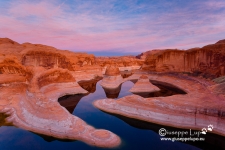 I hadn't been too Content with my photos from 2014, cause I had arrived 11:30 am at the Reflection Canyon and it was very bright back-light. This time we would have enough time, to shoot in the evening and perhaps even in the morning. We arrived around 12:30 pm. First we setup our camps, then we inspected the Terrain.
Unfortunately this time the water Level was much higher to my last visit. Furthermore the perfect weather we had the day before, had changed to an overcast afternoon.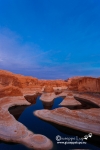 We were dissapointed, because this would ruin our plans for the night photos with the star belt. At least it was windstill, and the surface on the lake was smooth and reflecting sky and sandstone. We did 3 sessions of photos in the evening, before sunset, after sunset. The night was fine, not very cold, but after midnight heavy wind came up.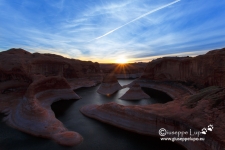 I was happy to have bought a new HQ low weight tent (Wechsel Pathfinder Zero G line) which is especially suited for high wind conditions. In the morning the wind was still strong. and it was not possible to roll up the tent, so I just stuffed it into the backpack. We checked if it would make sense to take photos, but having direct back light  we soon decided to hike back to the car. We arrived around 12:30 pm at the car. We would both head towards east so we planned to have a early Burger Diner in Torrey, where Peter knew some good dining place.
At 1 pm we started our 50 miles drive North on the Hole in the Rock Road. Driving mostly slower than a max. Speed of 35 miles per hour, it took almost two hours when we approached US12. Right 1 mile before US12 my Jeep gave me Low Air pressure Alarm on the Right Rear. I could not believe it, after 2012 in Death Valley, again a Flat Tire. The frustrating was that we were already so Close before reaching the paved road. I had already visualized eating the Burger in Torrey. But plans had to be changed. I gave Peter the horn to stop and we decided to part. I would put on the spare tire and drive to Escalante to go to the Tire store and check what could be done. Peter continued his trip towards East to his home in New Mexico.
At the tire store in Escalante nobody was surprised. Flat Tires seem to be their main Business model here. They checked my tire and due to damaged carcass It could not be patched. I definetly would Need a new tire. Unluckily they did not have my tire size, and called for me the next tire store in Bryce. UT just 45 miles east. It would take me more than an hour to drive there, my spare tire allowed only 40 mph  Speed. The Tire Store in Bryce would be already closed when I arrive, but they could serve me the next morning. I immediately decided to drive to Bryce, where I once had a fantastic Steak at the historic Ruby's Inn lodge. The lodge was opposite to the Tire Store and thus at 5 pm I checked in there. I took this unexpected spare time for checking with the Garage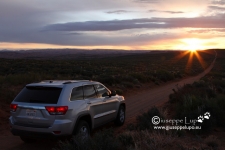 to Exchange my tire next morning at 8am, washing clothes, cleaning my tent and stuffing it nicely in its protection cover, and finally have a rich Steak based diner with desert and lots of wine.
What bugged me most: I had no plans to return soon to Escalante:  My last memory with this marvelous place, where I have had my best hiking experiences in US hiking would be the flat tire on Hole in the Rock Road (HITRR). Hundreds of miles driven on HITRR,  the "Aorta of Southwest Canyon Hiking" – I would leave it with …. a Flat Tire in my mind.
Updated existing Portfolio collections:
Related Posts: