In the morning I checked out of the Rodeway Inn, Caineville. The Hotel was ok, it seemed to have been renovated recently. I had the Impression I was the only guest that night. It had snowed the night but the streets where free of snow. I drove east on US24 towards Torrey and then south on US12 to Escalante. There I wanted to check at the BLM Office for road conditions and also get the Camping Permit for the next night. I arrived in Escalante early and thus refueled, had some coffee and a breakfast.
I also refilled my Food and Drinks. When the BLM Office opened I asked for the Road conditions on Smoky Mountain Road (on which I would drive 70 miles next) and for Hole in the Rock Road (on which I would drive 50 miles in the evening). HITRR was good, but Smoky Mountain road would have some muddy sections in the middle part, cause there was still snow melting up there. I was concerned, because my Jeep G.C. unfortunately had only 2 Wheels drive. Smoky Mountain road is a unpaved  gravel road connecting Escalante,UT with Big Water, AZ. I had some bad memories about getting almost stuck in the mud and therefore was not sure what to do. I had an appointment in the evening with a hiking Partner for a hike together south at Hole in the Rock Road. I did not want to arrive late.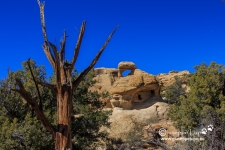 But the wish to see Collet top Arch was bigger than my fears. I slowly drove up and decided to check myself the road. I could Progress quite well, the road climbed quite steep from 5700 to 7000 feet and  approximately half way indeed there was mud on the road. But only once I had the impression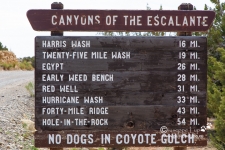 I had almost got stuck , and my heartrate jumped up. But later the road was again dry and I arrived at the place where I had decided to park the car. It was around 40 miles North of Escalante, a remote deserted and lonely place. I walked the remaining 1 mile to Collet Top Arch.  It was Kind of hide-and-seek to find the Arch, but having the GPS coordinates I was sure to find it. I did not know how the sun was Standing regarding the Arch, but was lucky to have the Arch well illuminated at around 10 am in the morning. I took several photos and then rushed back to the car, to drive now 40 miles back in northern direction on Smokey Mountain Road. After lunch in Escalante, I refueled the Jeep, checked the tires and drove towards Hole in the Rock Road, another unpaved gravel road leading 55 miles south and starting 8 miles east of the twon of Escalante. I had an appointment at 8 pm at Dance Hall Rock. It was 3 pm now and so I could take my time and drive slowly south on HITRR.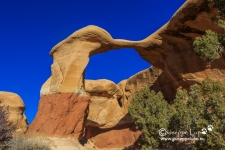 Having plenty of time I wanted to take some late evening photos in the Devils Garden section. I stoped there and had the nice warm evening sun – but once again on this trip, this was a "Revisited" location and thus not really very exciting for me. I left not too late, cause I did not want to drive in the dark on the unpaved road, knowing road conditions get worse in its southern sections. Finally I arrived at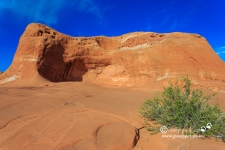 dawn at Dance Hall Rock and prepared my night camp in the back of the Jeep. At 8pm I heared another Jeep approaching and it was Peter Böhringer's fully equipped Jeep Rubicon 4WD. We decided spontaneously to drive further 15 miles south and night camp at the trail head of the Hike we had planned for tomorrow. It took us almost an 1 hour to drive carefully in the dark, before we reached the trailhead the for Reflection Canyon Hike. But it was a good decision, so we did not Need to drive tomorrow morning, before we start the hike. Thus we would gain this hour for starting early.
It was the new moon night. The crystall clear sky was illuminated by the milky Way. I had never seen such a clear Image of this star belt, it was amazing. The remotness of this area with ist lack of nearby city lights helped of course to get this bright view to the stars. Considering we might take that shoot next night, and being tired, we did not take any pictures. We prepared for the night. Fortunately, it was not that cold here, compared to the higher Utah Canyonlands Needles district, where I had slept three nights in the freezing cold.
New Portfolio collections:
Updated Portfolio collections:
Related Posts: