I had several times seen this photo of the Reflection Canyon, which was used by Apple to promote their Retina Display for Mac Book Pro. In my local Malls Apple shop it was used as a large print in their show room, and I saw it every Friday when we went doing grocery shopping. I knew this must be Lake Powell, but haven't seen this place in any tourist guide before. Is it a secret place ? I then found scarce Internet reports about this place and its visibility from air or with ship at a remote spot in Glen Canyon area. But further research showed also a few people visiting this spot on a land way by an adventureous 16  miles round trip wilderness hike. The best report I found was this one at Peter Böhringers web presence. It gives a compact summary of the difficulties and precautions to hike to that spot. I immediately decided to put int onto my 2014 trip with Highest priority.
Due to the lottery win of the Wave/CBN permit I had lost one day in my schedule, so I had to move the Hike to reflection Canyon by one day from Saturday to Easter Sunday. But worse, I had no solution yet how to guarantee my planed return to Las Vegas on Sunday night where I had booked Room for 2 final days at the Pool and Relax.
Finally It was a hike which gave me really the creeps whenever I thought on it. For this Hike I had even bought me a Personal Locator Beacon, and registered it in UK-cause Germany does not support it for individuals.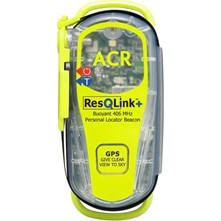 Making it short. I had passed the night at the trail head. A uncomfortable sleep, cause my Jeep was standing inclined and I glided always sideways in my sleeping bag. As all nights outdoors this year it was cold and its strange to sweat and freeze at the same time.
I started my hike at 6.20 am. The  first two miles was quite easy going walking on cow trails. from mile 2 to mile 4 I followed the GPS data I had and there was only scarce signs of a trail. From Mile 4 to Mile 6 it got harder due to ups and downs in the ravines. From Mile 6 to Mile 8 it was slick rock and thus again easier to hike, but without GPS I would have been lost and directionless. I hoped my Garmin GPS would not abandon me. Since about 4 days it had this strange behavior of shutting down when repeatedly zooming in or out on the map.
I arrived at 10:10 am on location and immediately understood that the point where this photo is taken is facing eastwards and thus I had the sun already high up against me. No good for photography. I had tried to understand in Google Maps Satellite-view what it would mean to be around 10 am at this location and there was a small hope of having the sun more favorable for my photos. But I couldn't change this. Obviously this place needs an overnight on location to shot good photos. I had no interest in that. Its scary enough like this.
Perhaps I can improve the Raw in Lightroom and have at least something better than this Resized, watemarked, jepeged RAW here.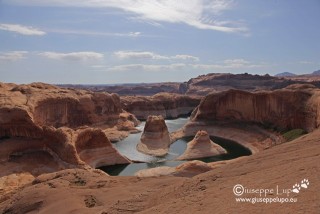 By the way: Whoever reads this and has been at this location for a overnighter: One of you has forgotten his tent there. Its still there smashed and bruised captured under a tree. Its a ferrino tent. Italian brand.
I did a short break, some photos and at 10:45 am started my return hike. Now physically already feeling my tiredness. I had tripod and 70-200 extra lens with me and 1 1/2 gallon of water/Gatorade.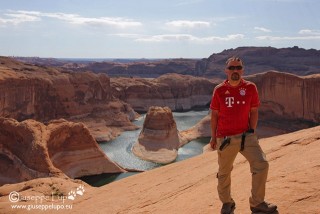 It was a pain to hike back in the sun. But the thoughts of the Las Vegas Pool pushed me. The Car GPS had calculated a drive time of 5h 30min from Escalante. Additionally I had to drive back the HITRR and there was still this prediction of rain for Easter Sunday evening.I fell one time over a loose rock hurting my arm and my chest, nothing serious, but it made me aware of how all this factors (tiredness, sun, heavy weight, urgency) made a good recipe for failure and I refocused on staying safe.
I was back at the car at  3 pm. The way back had took me only 30 minutes longer than on the way towards Reflection Canyon. And every bottle of drink I emptied at Mile 10, 12, 14, 15 made by bag-pack feel pleasantly lighter. I ate a whole bag of mariani dried fruit during the hike. This was lots of sugar. My shirt had a white salt crust after the hike. Yes this hike was strenuous. But I was happy when I saw the car. Just changed the hiking boots, grabbed a cool drink from the Ice chest and drove immediately up HITRR. After my flat tire last year I did no longer drive that fast on unpaved roads. But I made an exception today. I was in Escalante at 4:20 pm. And I would win 1 hour due to Nevada being back one hour behind Utah.
My back was hurting, my feet were hurting, but I was full of energy-perhaps from the Mariani dried Fruit ? I knew I could make it today to Las Vegas, solving the problem of the lost day, too. I turned right at Bryce Canyon junction towards north and joined on I-15 north of cedar city. At 9 pm I arrived in Las Vegas. That was a memorable last day of my trip. I would spend another 2 days in Las Vegas for Shopping, Pool time, Gambling and take a flight back home to Munich on Wednesday. A pity I would miss the Champions League semi final play between Real Madrid and Bayern Munich. Perhaps on my stop in Philadelphia I grab a view into the match or the result already.
My plans for 2015 ?   California 2015 or Colorado 2015 or Hawai 2015 sound interesting…….
Related Posts: