After a short uneasy night I woke up early about 7.00 am and couldn't stay in bed any longer. My plan for this first day was not to drive to much and adapt to the time difference. Starting with a good breakfast in one of Las Vegas's famous breakfast buffets couldnt't be wrong. I have been there before, and the Bellaggio and Aladdin Hotel Buffets are my favourites and so I parked my car in the Bellagio Hotel and spontaneously decided to take the Aladdin Breakfast Buffet. Three cups of coffee, Orange juice, toasted Bagel with salmon and a great collection of fruit: melon, pineapple, cantalupe and ultra red and sweet strawberries (they must have been genetically engineered, so good looking). Being there on upper strip I took a walk through the desert passage of the Aladdin (an inside open-air shopping passage with oriental stylish), and also a walk into the Bellaggio Hotel to see the botanical gardens with its elaborate arrangements of plants and flowers in its bright, airy atrium, decorated with red lanterns to celebrate the Chinese New Year (and a very big and trashy barking dog puppet, representating the starting chinese year of the dog). The area with Aladdin, Bellaggio and the Bellaggio lake and the Paris Hotel Eifeltower and Ballon is my favourite location on the strip. So I enjoyed also a walk outside along the strip.
Having been two time in Las Vegas before but never had time to check out the Hotel attractions I decided to go to South strip and have a look inside the Mandaly Bay, the Luxor and the Excalibur Hotels. I liked most the Luxor, with its inclinator elevators and its gigantic Atrium.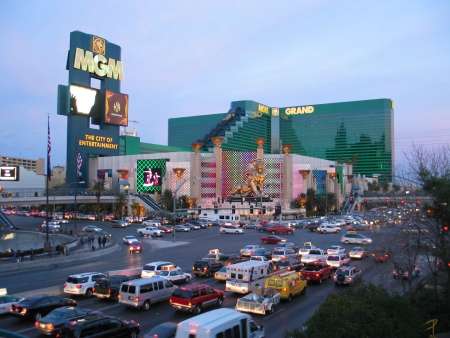 Viewing from Excalibur Hotel towards MGM.
Late afternoon my plan was to drive around a little bit in the side streets of the strip like Tropicana Avenue and Warm springs Avenue and doing some practical things like going to a supermarket (Albertsons) and filling my car trunk with diet coke and water bottles for the weeks stay. Going inside supermarket abroad is always an interesting experience for me, you see so many things you don't have at your place. Finally I used this first day to indulge my passion of graphic novel collecting. I checked out two american Comic book shops which I have selected in Internet before starting my trip. And fortunately COSMIC COMICS at 3330 EAST TROPICANA was absolutely great and had a never seen collection of graphic novels. Very quick I had to stop shopping as I had reached the 100 USD limit I had set myself and the weight of the books had to be taken into consideration too. The rest of the evening I drove around visiting the Hard Rock Hotel and Casino and the Las Vegas Hofbräuhaus, having some quick eat and then heading back to Las Vegas Hilton and my bed hoping for a better second night.
See the complete Photo series of this trip on my Homepage
Related Posts: