6.00 am in the morning check-out from Flamingo Hotel. Standing up so early was no problem, due to Jet-Lag. I was happy that I could sleep so long anyway. The plan I had made for today Tuesday was 4-parted:
1. A 220 miles drive from Las Vegas to 29 Palms which should take me according Mapquest 4 h 30 mintes
2. Three hour visit of the Joshua Tree N.P.
3. 140 miles drive from Josua Tree to Los Angeles and Hotel check-in
4. Rest of the day Los Angeles
Without breakfast I jumped into the car and drove in western direction through Henderson and then South on I-95 towards Needles. It was just dawning, and weather was little rainy. When I left Henderson and turned onto I-95 and having about 60 miles to the next city (which was Searchlight) a feeling of deep proudness arose in me, about this nice trip and how wonderful everything had worked out up to now, and about my terrific, meticoulous planing of this whole 8-day trip, when I suddenly was woken up in my dreaming by the fuel indicator alarm! F***, I am running out of Fuel. I can't afford today to turn back. How long can I drive with the reserve fuel? I got really really nervous, slowed down to the allowed 70 miles, turned of the AC, and my CD player (all this to conserve fuel), rummaged in the glove box for the Sonnata (my car) instruction manual (to find out how long reserve fuel will last) and tried to calm myself down! No I can't turn now, it's against my time schedule, I won't make it till Los Angeles then and see Joshua Tree park. Against any logic I continued on I-95 south and from now on counted every mile up to Searchlight. When I was only 25 miles away from Searchlight, I cooled down and I began to see myself walking down the Highway, buying a canister and taking a Taxi back to the car. Fortunately I made it to Searchlight and took the first gas station and filled up. Now I had only 25 Miles to the most interesting part of the drive, the old Route 66 entry from I-95, over Essex to Amboy. When I had planned the trip with Mapquest, I didn't even recognize that I was going to take the Route 66. But after having driven on this old bumpy, abandoned and lonly road I was very happy for having choosen this route.
I passed Essex, Danby, Chambless the Ghosttowns on Route 66 between Essex and Amboy and arrived in Amboy with the Amboy Crater and Roys Cafe (known from Movies). First time in my life I saw a Shoetree, which seems to be a funny idea of american tourists.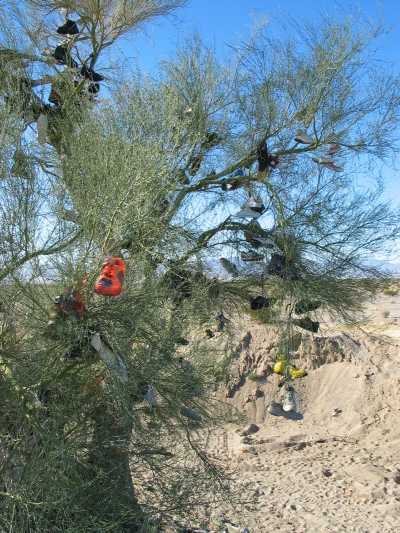 A shoetree on the Route 66.
In Amboy at the crater (unbelievanle to see this small volcanic crater in the middle of the dessert) I had to leave Route 66 and drive through a Dry Lake , with a Chloride Company and then through the mountains towards Twenty Nine Palms, the small Mojave town with the east Entrance to Joshua Tree N.P, where I arrived at about 10.30 am and first of all needed a good fatty McDonald breakfast.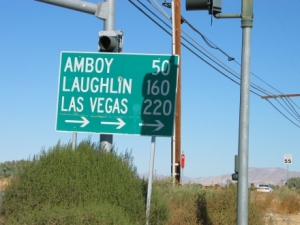 When Arrived in 29 Palms (east entrance of Joshua Tree N.P.) I had already 220 miles (352 km) behind me.
In Joshua Tree N.P. I took the 40 miles scenic drive to the west entrance in Joshua Tree city, adding a 12 miles loop up to Keys View
an 5185 feet scenic overlook point into Coachella Valley with Palm Springs and the St. Andres Fault (and also with nice view to the San Gorgonio and San Jacinto mountain peaks).

Cap rock in Joshua Tree N.P.
Leaving the park I liked very much the picturesque Joshua Tree city. Then I continued my drive towards Los Angeles, which was now only 140 miles away (224 km). Coming down the mountains to I-10 Highway I passed a gigantic windfarm where I stopped for making some photos. This windfarm is the biggest in US and uses the enormous winds blowing from the hotter desert to the cooler mountains through the pass formed by San Gorgonio and San Jacinto. Leaving Palm Springs on the left I merged into I-10 west and the increasing number of road lanes, and traffic indicated the approaching L.A. city limits. About 3.00 pm I checked in my Comfort Inn Hotel on Sunset Boulevard, a hotel we had used before and I had found as strategic positioned between Downtown, Hollywood and the major L.A. Highways. I immediately left the Hotel after leaving my luggage for the 5 minute away Echo Park, where I enjoed the marvelous view to the Downtown L.A. skyline. What to do next I decided spontaneously and so my decision was to see the sunset on St. Monica Pier, and like this also touch the pacific ocean, a good contrast to my dessert roadtripping. Always funny and thrilling in L.A.: planning your way to some distant spot over the Highways: from Echo Park to St. Monica means: I-101 South—I-110 south—I-10 west and there you are. It thrills me always driving on those 6 to 10 lane Highways and fortunately I did not hit the rush-hour. 30 minutes later I was on the beach.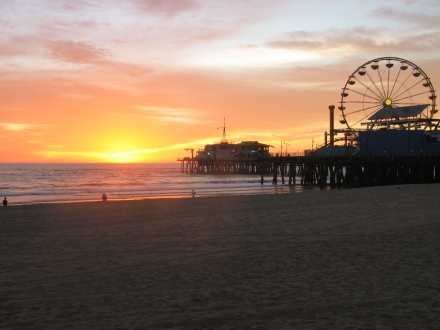 Just arrived on time to see Sunset on St. Monica Pier.
After sunset I made a walk on the beach towards the Third street promenade, a very nice shopping passage, where I had some chinese food. After that I wanted to have this gigantic view over the city which you best have from Griffith Park observatory, but this was closed for construction and I went up to Mullholland Drive, were several scenic view points are located. After this I was ready for bed. I checked my cars Mileage and it showed me 450 miles driven today (720 km). I am highly satisfied.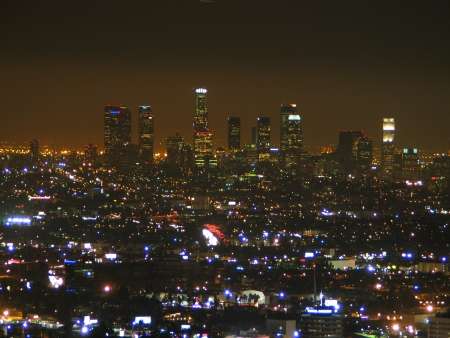 View from Mullholland Drive towards Downtown L.A.
See the complete Photo series of this trip on my Homepage
Related Posts: