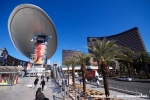 This day I had planned to have no plans and have a spontaneous day. I started with a shopping walk in the Fashion Show Mall. Hereafter I got little shopaholic and visited also the Boulevard Mall and the Meadows Mall.  I spent around 2 hours in each mall but did not really buy much.  Some T-Shirts at Tillys and Pacsun. 

At the evening I did not know what else to do and so I completed the Shopping day by visiting also the Las Vegas Outlet Mall south of McCarran.  At the end of the day I felt like a woman. I had never had the energy and patience for long shopping tours before, seems that the hikes had trained me to master also this challenge. After diner I drove to Las Vegas downtown and did some further nigthly Las Vegas shots to extend my collection of
"Las Vegas Neon Lights" photos
.
Related Posts: