Pilgrims Poetry from Hernan Alonso on a bridge in Villafranca.
My first hiking day starts at 7.00 am. From my Hotel I walk through Villafranca and I try to understand how and where to get the credential stamps for my Pilgrims book. I will not be succesfull in Villafranca, because I didn't know then that normally I can get them either in the albergues, hotels or in churches on the camino. After a while I give up and take the Camino which was marked by signs leading over a bridge and out of the town. Leaving Villafranca I miss my turn for the Camino duro variant over the mountain. I notice this after 1 km and return to the start point for the Camino duro which in the Guides is described as the more beautiful Hike compared to the walk along the freeway. The camino Duro leads over a mountain and avoids the loud freeway.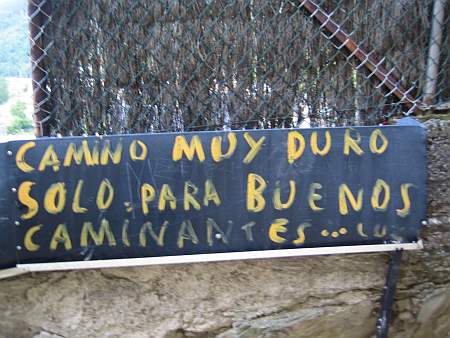 Not very professiional warning for the Camino Duro.
Tha Path up to the Camino Duro variant over the mountains avoiding the freeway leads through a nice chestnut forest and through small hills and finally again down to Trabadello where it meets the other route. In those forest the camino is not very good marked so that I loose around 30 minutes by walking back and forth the correct path.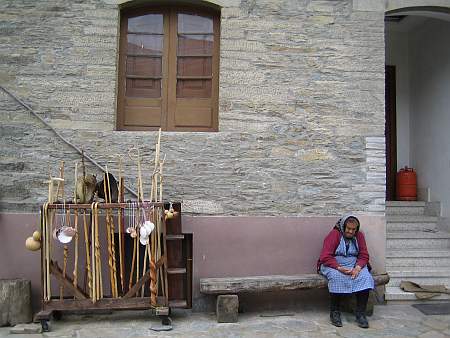 Old Lady in Trabadello selling Pilgrim sticks.
On my way up to La Faba I met Louis from the Basque country. A nice man which I liked very much. He chatted with me and then everybody continued with his own pace. He told me he was doing the camino every year for ten years now, starting in his nometown in the Basque country. So he had a long trip behind him and was on his last 200 km, whereas I had just started on this day. I will never forget the "clip-clap" sounds of his ski sticks, which he used as pilgrim sticks. Later on I met him several times always delighted by his charisma. I saw him stopping wherever he met locals, for a small pretty chat. Everybody seemed to like him.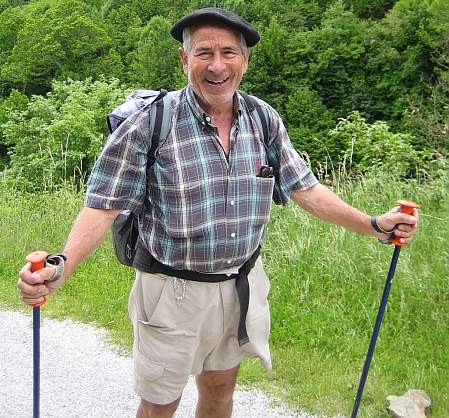 Louis from Basque country.
I arrived in La Faba around 1.30 pm where  I had vaguely planned to pass my first nights, but seeing it was so early in the afternoon and  being full of energy on this first day, I decided to extend my hike after this first 20 km and take the hike up to O`Cebreiro mountain.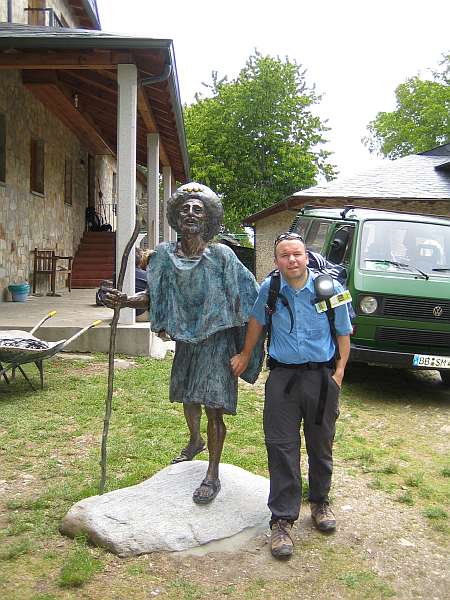 Me in La Faba with another Pilgrim.
On the way up  to 1330m O´Cebreiro peak I pass the gallicien border and exactly at the border stone I meet another Louis, this one from Florida. He had no backpack cause he let it drive from albergue to albergue by taxi and therefore he had quite a good pace. I liked to talk with him not knowing that i would meet him again on two different locations on the camino.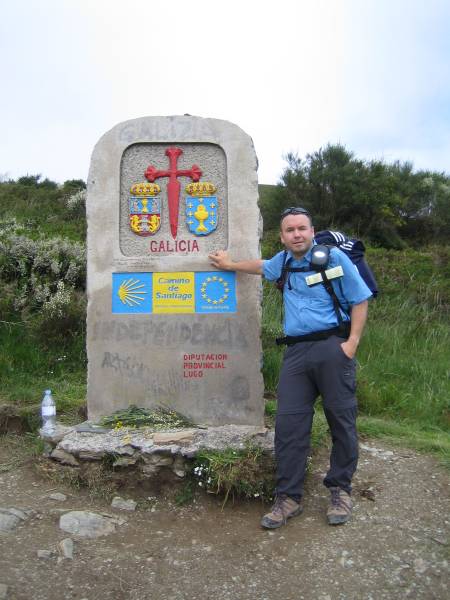 Photo taken by Louis (Florida): me at the gallicien border stone.
At around 2.30 p.m. I arrived in O Cebreiro peak. The bad news arriving there: No beds free anymore. I got informed that I had to walk further 10 km to Alto do Poio. Another mountain.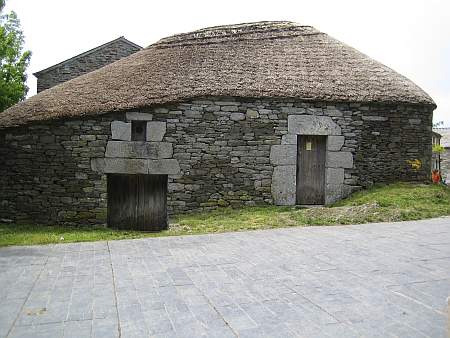 Not much good temper to admire the Palloza houses in O'Cebreiro. I got the first time panic: Where should I sleep this night? What if I have to sleep outdoors?
I am so tired meanwhile after the first two mountains and hiking 30 km that I need around 2.5 hour to arrive a Alto Lo Poio and get the last bed in that hostal. My feet and back are aching, 40km on the firstday: I didnt expect this.
If you like to see more fotos here the link to my camino photo album Camino de Santiago 2007 .
Related Posts: