This monday starts at 6.30 am when the first pilgrims start their hike and wake me up. I wait until all have left and start as last one at around 7 am. The first 1 hour until Palas de Rei its quite foggy and cold. I decide to Breakfast not before 9 am like the previous days.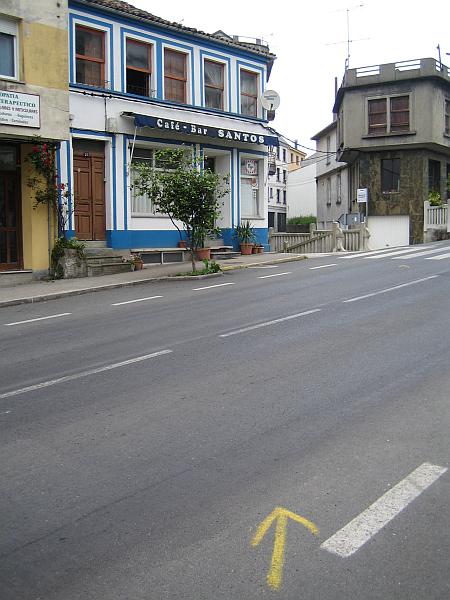 Palas de Rei: I arrive there after a 1 hour hike. The first bigger town after Portomarin on the Camino.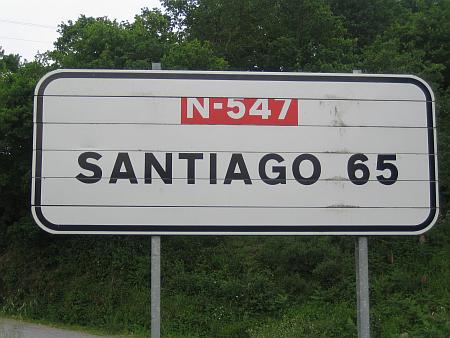 Near San Xulian I cross the road and this sign motivates me: Only 65 km remaining to Santiago.
Here I pass a peculair pilgrim: He walks extremly slow, occasionally raises both arms to the sky and sings kind of church hymns. Overtaking him with my speedy pace I just think this poor fool will never make it to Santiago. I wouldn't believe to meet him again this same monday evening in the same albergue like me in Arzua, arriving 6 hours behind me and telling me he is from Brasil and has Arthrosis in his hips. His name is Antonio and he is such a nice guy. Later on the camino I learn from other people I meet, that everybody on the camino knows Antonio from Belo Horizonte and everybody loves him. What I learn this day is: Dont judge someone too early and dont judge someoone by his speed.
Quite hungry I arrive in San Xulian and after having read the recomendation for the bar O Abrigadoiro in my guide I decide to breakfast there.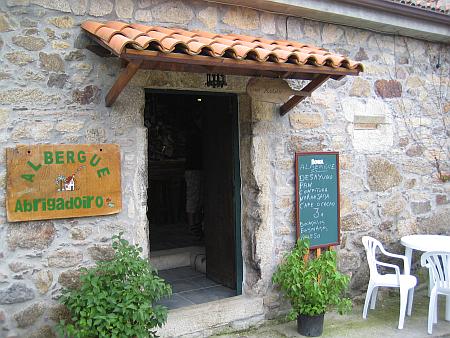 San Xulian, Alberque O Abrigadoiro: Here I had my breakfast, after 2 hours walking. The man behind the bar with a big white beard is quite occupied to serve a group of spanish pupils and I have to wait 15 minutes for my coffee and bocadillo (sandwich).  But the bar is so nice a interesting that I dont mind to wait.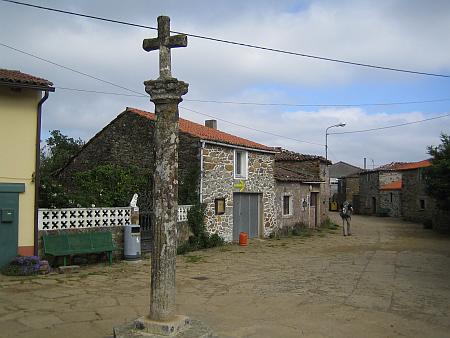 Passing San Xiulian city centre: stone cross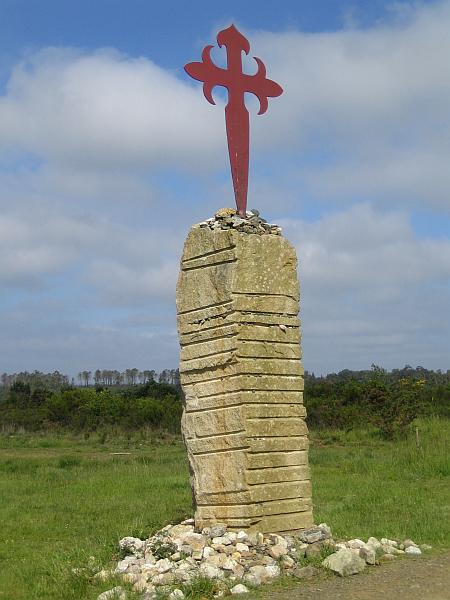 apostle cross on the camino somewhere near Melide
At noon I arrive in Melide and have a quick lucnh. I tried to find a possibility for Email/Internet but nothing to find here. So I continue my walk around 1 pm.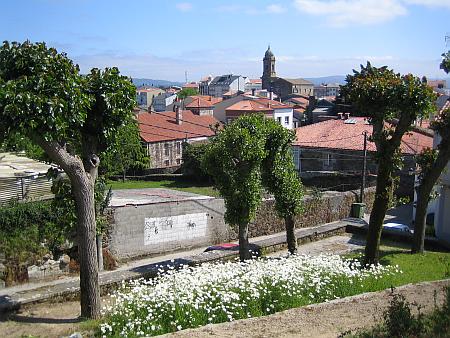 exiting Melide: view back to the town
The Hike from Meilide goes through forests and fields and it was a warm sunny afternoon. Very nice the crossing over Rio Catasol over big stone bricks.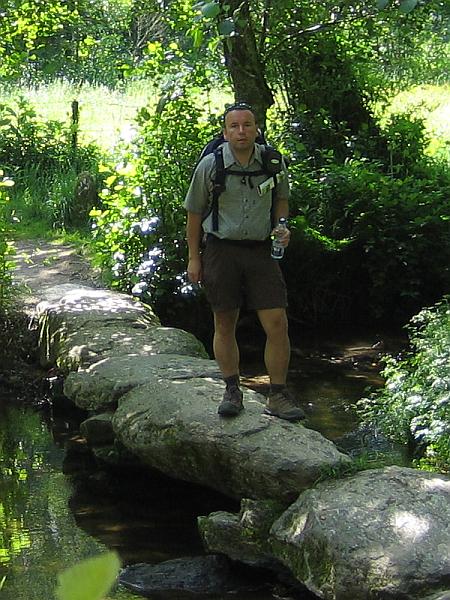 Me crossing Rio Catasol: Near Raido
In the small village Boente I remember a priest standing in front of his chapel and intercepting every pilgrim on the camino to have a look into his chapel. He was spreading good mood, greated everyone by hand with a wide smile, explained the interior of the chapel and awarded every visitor with a small photo of apostle Jacob (Santiago). I also took the chance to get a credential in his chapel and one of his photos.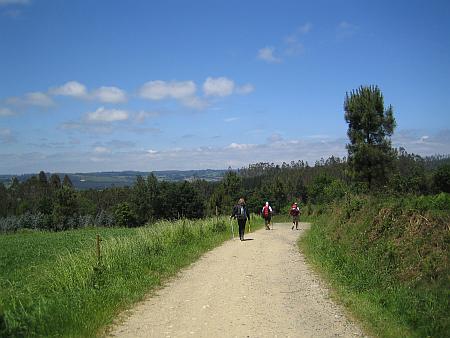 Late evening, near Arzua. The woman with the sticks was a french lady who had told me she had started her camino in Paris, France. Around 4 in the evening I arrive in a nice clean albergue in Arzua, the Hostal Lactae. (8 Euro). There I takea shower, relax a little bit and then I find a Internet shop where I can check emails and news. In a nice restaurant I have a great dinner with red wine. Late in the evening around ten o clock, I was already lying in the bed I decide to stand up again and go into the garden of the hostal cause I couldn't sleep yet. There I meet Antonio: The slow and hymn singing pilgrim I had seen this morning near Palas de Rei. We chat a litttle bit and I recognize that he is not crazy. He tells me that he is from Belo Horizonte, Brasil, is 34 years old and has hip arthrosis. He can walk only very slow so he has to make very long day hikes. He told me he had just arrived in Arzua, was washing some clothes and having a cheesee sandwich. Very sympathic guy, father of a 4 year old girl. I was  little bit ashamed of me having declared him as crazy this morning.
I am in Arzua: only 42 km left to Santiago. A good feeling, knwoing that I had walked already 160 km and I will latest arrive on Wedneday in Santiago. Only one full hiking day left!
Related Posts: