The night in Arzua I slept not very well. From 3 a.m. I woke up several times, I had two snorer on my left and my right. At 6.30 i got up and my Hike started at 7.00. Walking still in the dark, I got overtaken early by a lady holding a banana peel in her right hand. She had a quick pace, I noticed that I was walking quite slow and I was very tired this morning. So I took the chance and made the lady to my pace maker: I sped up trying to hold her pace and walked around 100 meters behind her still wondering why she didn' t throw away the banana peel.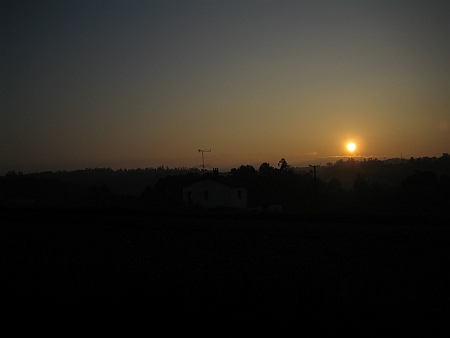 1 h 45 after Arzua I arrived in Calle where a nice bar invited me for a hot coffee and my usual bocadillo breakfast. I got in and noticed the lady with the banana peel also ordering her breakfast. I took a seat next to her and we came into talk. She explained me that a banana peel takes quite long to decompose and it makes still sense to through it in a bin although its organic stuff. We immediately opened a easy-going conversation and I found her immediately very sympathic. She told me that she uses to eat a bocadillo with tortilla (kind of spanish potato-egg omelett), and liking tortilla but not knowing the combinatin on a sandwich I decided to try that out soon. Chatting relaxedly we took our breakfast and coffee (I think she had a tea). Not wanting to look to intrusive after having finished with my coffe I decided to start ahead and saying goodbye with the usual words of being sure to see her later on on the camino. I had liked that girl from the beginning and cheered up from our chat I continued my hike, hoping to meet her really again. I took the wrong turn when leaving the bar and I got on a wrong trail. Only 15 minutes later at the stone cross on the foto below a elderly countrywoman laughing at me with my backpack told me I was not on the camino!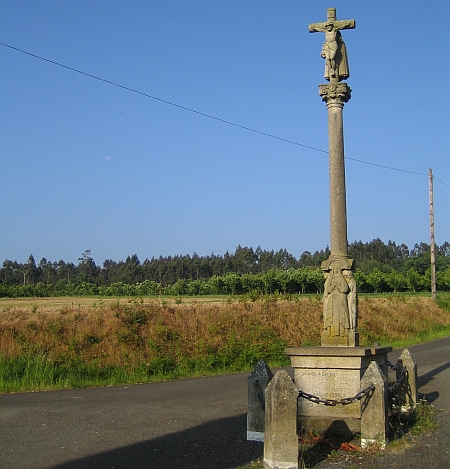 She told me through sign language that I am not on the camino and I need to  take a left to find back to the camino. At first I was scarred How I could not have noticed there had been no yellow signs any more and how and where I had taken the wrong turn. At least at the bar there have been lots of pilgrims. But correct, the last 15 minutes I havend seen any other pilgrims. But soon I consoled me that I wouzld not have seen this nice stone cross if I hadn't missed the way. I took me 10 minutes to find back to the camino by a shortcut and I immediately recognized the camino from far away by the pilgrims on it. I was not too surprised when rejoining to the camino that the first person I met was the girl from the bar who asked me with a grin where I am coming from. From there we walked together (me still impressed about her fast pace). We introduced each other: Her name is Yvonne and she is from Holland. She had started her camino on the coastal variant but soon recognizing that that one was so boring cause there were few people she decided to take the traditional camino frances. We talked relaxedly and walked together for the rest of the day until Monte de Gozo. At 12.45 pm we had lunch in a truckers restaurant in Cruce de Castrofeio. Arriving in Monte de Gozo we had walked and talked together around 7 hours. this had been one of the nicest day on my camino. I remember that my feet where aching the whole day and I was paying the bill for my 40 km daily stages of the last 5 days. Yvonne even didn't mind to slow down her incredible pace so that I could follow her. This day was also the day I made the least amount of photos cuase I was so focused on following my conversation with Yvonne.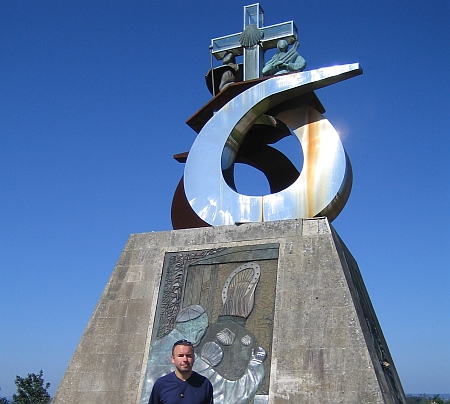 Me at the pilgrims monument on Monte de Gozo.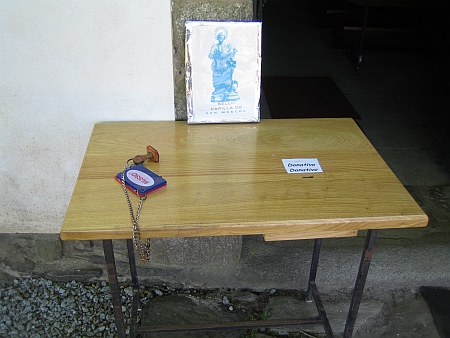 Here I got my last credential stamp (beside the final one in Santiago): the chapel on Monte de Gozo. I also took an Ice cream hear at the kiosk in front of the chapel.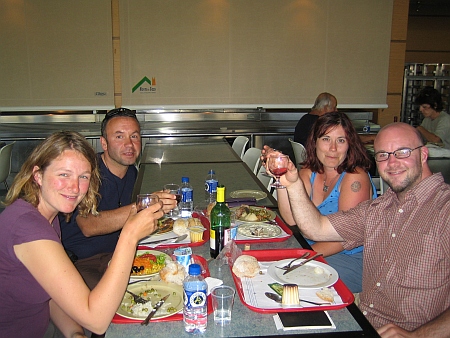 Dinner with Yvonne, (me) Rachel and Patrick (from left to right) in Monte de Gozo.
Monte de Gozo (Mountain of delight) is only 5 km from the Santiago de Compostella basilica. Most Pilgrims pass their last night before arriving in Santiago de Compostella in Monte de Gozo. It has quite large bed capacity and the facility looks like an olympic village.  Late in the evening Yvonne and me had a dinner in the only restaurant in that pilgrims facility. We met Rachel and Patrick (both from San Diego) who were studiying for a year in Madrid and had also heared of and decided to hike the camino. We had fun with red wine and exchanged our email-addresses. In the village we saw a lot of faces we had seen before on the camino, also Antonio the brasilian guy with arthrosis I had met the day before arrived later in the evening. Still impressionating that he had also  made this 38 km stage today. What remains in memory from Monte de Gozo is that everybody there was kind of happy and cheerful and with a grin on the face. We all knew: We had all managed the camino. This had been the last day of pain and 8 hours and Plus hiking. Only another 4 km remined tomorrow. Tomorrow we would reach our destination: Santiago de Compostella.
Related Posts: