This morning I started my first longer drive. The plan was to drive from Las Vegas to Scottsdale for a short visit to Christianes aunt and uncle. Scottsdale was also the first stop in Arizona, on my way to my end-target: New Mexico.  On my morning schedule was a visit of the new Skywalk at Grand Canyon West.
The last 20 miles to the Skywalk I had to drive a dirt road, which was really a challenge for my non-4WD rental car. But I was lucky that it hadn't rained here recently. I had to drive through some muddy road holes.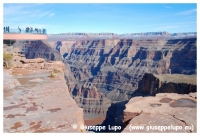 View of the Skywalk and Grand Canyon. Unfortunately it was not allowed to take the camera on the skywalk platform. Around the Skywalk some exhibitions explained life and culture of  Native Americans and some native american people showed some dances and their costumes.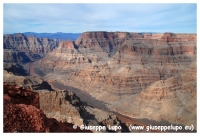 View from Guano Point towards south direction of the Colorado River and Grand Canyon.
I arrived late tuesday evening in Scottsdale and visited Christianes aunt and uncle we had a very nice Steak diner in Cartwrights steak house in Scottsdale. I would say that was definetly the best steak I ever had.
Related Posts: