They had announced this would be the last summer day of 2009. I try to do this hike once a year so, this year after 2007 and 2008 the 3rd time.  Being owner of a Oregon 300 GPS since my last US trip, I could for the first time log my hike and create following profile out of the gpx.log.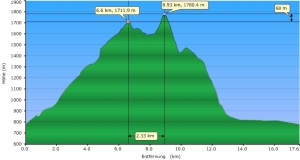 It took me 7 1/2 hours this year. Never been so slow.  The weather was fantastic.   The view towards the north (Starnberg Lake, Ammersee) and to the Alps was amazing. The hike itself can be divided in 4 parts:
6 km steep climb of 1000m altitude towards Herzogstand peak (2 h). The "exhausting" part.
2 km along the rim between Herzogstand and Heimgarten (1.5 h). The "Nice" Part!
1000 m in 3km descent from Heimgarten towards Walchensee. The "endless" Part!
4 km along the Walchensee shore back to the car park near Urfeld. The "tired and aching" part!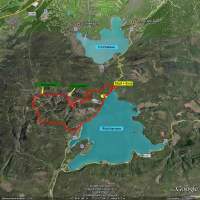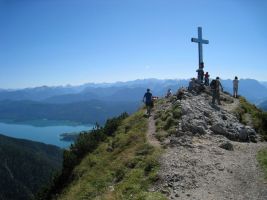 Google Earth KML file    (save as .kml ->you need Google Earth installed)
Related Posts: